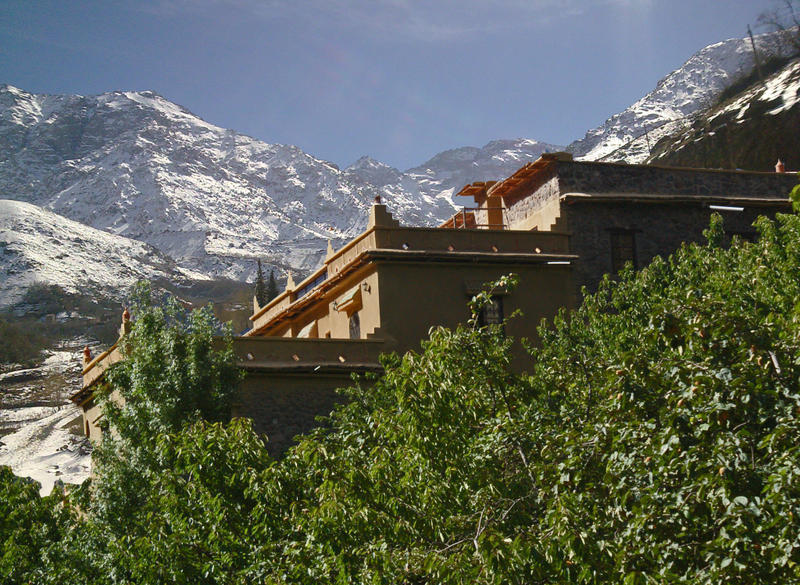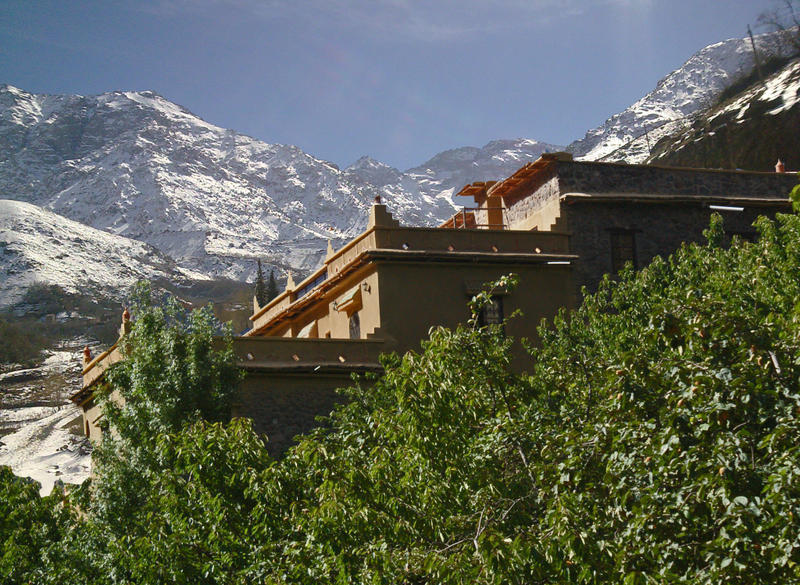 Hostel Terraces de Toubkal Lodge, Imlil Morocco
Facilities
- Breakfast Included
- Restaurant
- Internet Access
- Airport Pick Up
- Luggage Storage
- 24 hour reception
- Travel Desk/Travel Info
- Common Room
- Bike Parking
- Free Carpark

Guesthouse Terraces de Toubkal Lodge, Imlil
:: Terraces de Toubkal Lodge - Asni-Imlil Road, Imlil Imlil ::
Description is written by the owner of the accommodation of the Guesthouse in Terraces de Toubkal Lodge, Imlil, Morocco. Book fast and easy online, hostel and accommodation in Imlil

Description of Guesthouse Terraces de Toubkal Lodge
Located in the High Atlas Mountains near Imlil, Terraces de Toubkal Lodge and Restaurant is a getaway base for culture, nature and adventure. Resembling a Kasbah and with its owner being a Berber who grew up in a nearby village, Terraces de Toubkal has been built and decorated in Berber-style using traditional methods.

This includes stones from the adjoining stream forming the basis of the walls, the use of bamboo in the ceilings in some of the rooms and carved Berber symbols adorning not only the large wooden entry door, but also other doors, window shutters and tables. Rooms feature carved wooden beds, tadellakt coated walls in earthy colors with traditional Berber bed coverings and rugs. Twin, double and family rooms with ensuites are available, and can sleep up to four people.

During Summer it is also possible to sleep on the terrace. Breakfast is included in the price.

There are large terraces with views along the valley looking towards Imlil and Mt Toubkal. There is also a restaurant serving traditional Berber food where the choice can be to dine inside in the dining room or outside on a terrace. A traditional Moroccan lounge is available for guest use.

A range of activities can be organised including hikes ranging from half-day to a week or more, visits to local villages, an overnight stay with a local family, a visit to a local market or a climb to the summit of Mt Toubkal. Mohammed Id Hammou, the owner of Terraces de Toubkal Lodge and Restaurant, is a certified tour and hiking guide whose services have been used by Hilary Clinton.

Terraces de Toubkal provides guests with an opportunity for comfort and relaxation in tranquil surroundings while experiencing and learning about the traditional Berber culture of the High Atlas Mountains.

Directions for Guesthouse Terraces de Toubkal Lodge
Located 1 hour 20 minutes south of Marrakesh, Terraces de Toubkal Lodge and Restaurant can be reached by grand taxi via Asni. It is 5 minutes from Imlil on the Asni-Imlil road. Alternatively transfers from Marrakesh or the airport can be arranged for a fee by contacting Terraces de Toubkal directly after booking.